This book, Derbyshire & the Peak District – A Dog Walker's Guide

contains details of 20 dog walks arou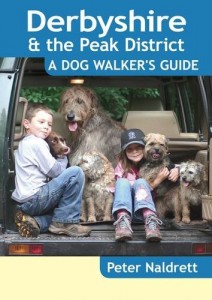 nd Derbyshire and the Peak District. They range from a short two mile walk to a longer 5 3/4 mile walk. There are plenty of colour photographs and clear sketch maps which will give you a good indication of the type of walk that you can choose to do.
The dog walks are spread throughout Derbyshire, however the majority of them are situated in the Peak District and the High Peak, which is good walking country, particularly for dogs. There are a couple of walks based in South Derbyshire and a further two or three across towards Chesterfield.
There is a  useful "Dog Factors" section for each of the walks, which provide you with information such as the distance, number of dog friendly stiles, what the chances are of meeting livestock (very important to know when deciding on a off lead or on lead walk) and where the nearest Vet is.
As well as describing each walk, there is also a section on where the nearest refreshment stop is. This is most important for me, as I like to find nice coffee shops and dog friendly pubs when I am out and about with the dog. The husband prefers a good pub that serves real ale!
Overall, the book is a good buy, if you live in, or are visiting the Peak District with your dog. For me, it has refreshed my mind when considering different dog walks in the area. It has also added a couple of extra dog friendly pubs for my friends and I to try!