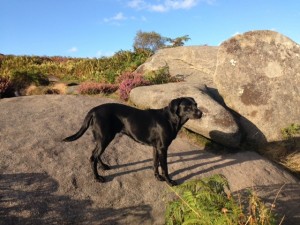 The lovely people at Wet Nose Publishing Ltd have sent me a couple of books perfectly suited for the dog walker. They are Countryside Dog Walks in the Peak District – South (White Peak area) and also one for the Peak District – North.
They are beautifully illustrated books (with lots of lovely photographs) – if only the Peak District was this sunny all the time!!
There are 20 walks contained in each book, which range from Easy to Challenging. Each individual walk gives a summary of the distance, what grade e.g. easy, medium or challenging and how long it is estimated to take, pretty useful if you are time restrained.
The walk descriptions helpfully tell you if you are likely to encounter sheep and cattle, which is very useful if you have a dog which is likely to react to either. There are useful little maps which indicate the direction that the walks will take, although I would still have a copy of an Ordnance Survey map or similar on your phone, just in case you take a wrong turn!
The only thing I would say, is that the book advertises itself as "20 graded walks with no stiles" – yet there is a squeezer stile in Walk 14 Over Haddon (Peak District South) which is particularly narrow. Whilst these are not the tradional wooden stiles that you climb over, they are worse, certainly for larger dogs, as they are two pieces of solid stone that you have to squeeze through. Quite often there is no other way around!  That said, the walk description does warn you of the stiles right at the start, so you won't get caught out.
These books are a great accompaniment to a holiday in the Peak District with your dog.