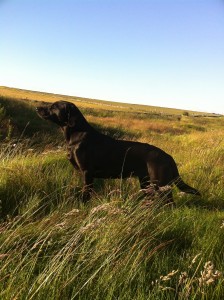 Distance:     Approx 3.25 miles
Time:            Approx 1.5 hours
Grid Ref:      SK218685
Post Code:   DE45 1DS
Terrain:         Easy, flat, along the trail and paths.
This is a pleasant circular walk which follows part of the Monsal Trail and includes a public bridleway and some roads. There are some spectacular views of Bakewell as you make the return journey across the fields. Apart from the initial walk up the hill towards Bakewell Station, the rest of the walk is relatively flat and easy going.
Toilets: There are public toilets in Bakewell, next to Boots the Chemist.
Refreshments: There are plenty of coffee shops and tea rooms in Bakewell, but you will also pass Hassop Station Café on this walk, where you can sit outside in the covered seating area.
Directions:
Starting from the pay and display car park behind the Tourist Information Centre, follow the road North East out of town and over the historical five arch stone bridge.
Take a right turn and walk up Station Road signed towards the Industrial Estate. This leads to the old Bakewell Station. (You can start the walk here if you wish to, as there is a small pay and display car park outside the station). The Peak District National Park now owns the disused railway line and it forms part of the Monsal Trail. Walk down the left side of the station building and, turn left onto the Monsal Trail (signed Wye Dale). Walk along the trail for approximately 1 mile.
As you approach Hassop Station, you will see several picnic tables and benches, ideal for a quick snack if you have your own food. Alternatively, there is a lovely café at Hassop Station, where you can stop off for refreshments if you wish. There are tables outside with a large outdoor covered seating area at the front of the building where you can take shelter with your dog if the weather is not so forgiving.
Continue past Hassop Station walking under the bridge and staying on the trail. After about another ¼ mile turn left off the Monsal Trail onto a track (signposted Public Bridleway- a blue arrow on a black background) opposite the old Toll Bar House. The track is walled on either side, so your dog can stay off the lead. Just be aware, that there are several gates to pass through which have access to farmers' fields, where livestock could be grazing. Please remain vigilant and put your dog on the lead if necessary. The stoned track eventually becomes a grassy track, and in wet weather can become a little muddy, but continue along it for approx 0.75 miles. There are fine views across the fields on either side of the track. The track is rather undulating, but as you reach the top of the last uphill section, you will be rewarded with lovely views of Bakewell and it's church spire.
When you reach the end of the track, you will pass through a gate into a field (ignore the signs to Great Longstone, which will be on your right). Please be aware, that there are often cattle and sheep in this field, so make sure your dog is on the lead. Follow the well trodden path down through the field, following the blue arrowed bridleway sign. At the bottom of the field, pass through the gate and continue to the bottom of the track, bearing right as you walk past Holme Hall which will be on your left. The track will join up with a minor road.
Once you reach the road (where the entrance to the Riverside Business Park is on your right,) turn left and follow the road until you reach a footpath (accessed by a gate) on your right. Note: There is a poop bin, just by the entrance to the Riverside Business Park. You can now walk across the meadow to the next set of gates.
At the corner of the meadow, there are two gates, one takes you up onto the road and the other continues into the next meadow, along a narrow stone path. Follow the path which takes you to another gate and into the field beyond. From here, follow the footpath across the field and towards the stone bridge.
Once at the bridge, turn right and walk across the bridge back into Bakewell.

|

|

km

|

|

/km

|

+m -m (net: m)

|

download GPX file

Start
Tourist Information centre bakewell
Station Road
Station Road, Bakewell, United Kingdom
Hassop Station
Hassop Station Cafe and Monsal Trail Cycle Hire, Bakewell, United Kingdom
Bridleway
Hassop Station Cafe and Monsal Trail Cycle Hire, Bakewell, United Kingdom
End of track
Bakewell, United Kingdom
Bottom of field
Bakewell, United Kingdom
Footpath through meadow
Bakewell, United Kingdom
Gates
Bakewell, United Kingdom