Meet Mackie, our power chewer!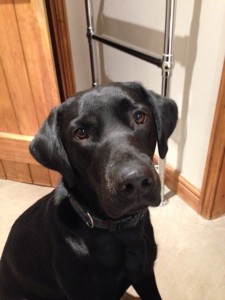 Looks like butter wouldn't melt in his mouth!  Just so you know, he has jaws of steel and likes to exercise them regularly!
When he can't find anything to chew, he starts looking for trouble……
So, I'm on a mission to find dog toys that he can't destroy in 5 minutes flat! I will share with you what I have found so far, but believe me, there aren't many dog toys that are "Mackie proof"……
Zogoflex Jive: This is the heaviest most dense ball that I have ever seen! It is made from a product called Zogoflex, and it is advertised as being really tough!  I can vouch for this, as Mackie has had one of these for 3 months now, and he has only just started to damage the outside of the ball. It's still got loads of life yet. Be warned however, it really hurts if they drop it on your toes!!!
2.  Nylabone – all flavours! Now these are brilliant! They don't last forever, as the dog chews them so much, they eventually shrink in size and become quite dangerous, but you will know when this starts to happen, and you should remove it from the dog immediately.  That said, they come in all different flavours and the dogs love them. The only warning….. be careful not to accidentally stand on a vigorously chewed Nylabone in your bare feet – it hurts like hell!!

3. Kong Extreme dog chew – I don't think the makers of Kong Extreme chews had met Mackie when they designed this one!  I have put this at the bottom of my list, purely because it is the only toy that has been completely destroyed by Mackie…. It did take him a while however, so we did get our monies worth, but he was eventually able to bite the top off the cone shaped chew and needless to say, that one ended up in the bin!  Most dogs, I think would still get hours of fun from this dog toy, and I will still get Mackie another one, because it pays to have a bit of toy variety around the house…