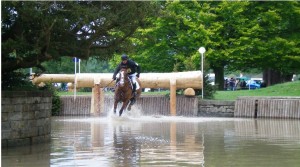 This weekend sees the Chatsworth Horse Trials gallop into town (Fri/Sat & Sun 13th – 15th May 2016). This is a great day out for all the family, including your furry friends. They are usually very well catered for at Chatsworth, with plenty of water being available around the show ground for your dog. We go every year, and I am always amazed at the number of dogs that visit – it's really good to see.
Be prepared to walk a lot! You can follow the riders around the course and watching some spectacular horsemanship. I promise that both you and the dogs will be exhausted by all the fresh air and exercise that you will get!
There are also great trade stands ranging from country clothing, food and drink,  and several pet supply stands. I am hoping that we might find some new dog beds this year, and I could do with some more really tough dog toys/chews. Mackie loves to chew, and we can't leave socks or shoes anywhere near him, as he will consider them fair game and eat them!!
A walk in Eyam
If horses aren't your thing, then how about visiting Eyam (The Plague Village – or at least was…). I went there this week for a wander around with the dogs. We had a nice mooch around the village and then I visited one of the coffee shops which I know is dog friendly, and they now have a window sticker on their front door. Thanks to the staff at Cafe Village Green, which is in The Square in Eyam.
Whilst I was there, I saw another coffee shop almost opposite which I haven't been in before, but a quick bit of research on Trip Advisor revealed that they are also dog friendly, so I will be taking a trip back to Eyam to take a window sticker to Eyam Tea Rooms, also on The Square.
Our walk (in brief)
1. I parked in Eyam Hall car park (this is a National Trust car park, you'll need to be a member to park here). Other parking is available, just follow the signs in the village.
2. I turned left and walked up main street, until I reached what was once a public house. I then turned left into Tideswell Lane and followed this up the hill and then turned left onto Windmill Lane. If you have an OS map, there is a loop which takes you around Dunlow Farm and eventually loops back into Tideswell Lane, but there are a lot of sheep and lambs in these fields and dogs must be kept on leads.
3. Instead of taking the loop around Dunlow Farm, because I was short of time and wanted to get to the coffee shop before it closed, I simply turned left down Dunlow Lane, which actually brought me back to the rear of the Eyam Hall car park. I did notice that there were footpath signs to The Delf and Eyam Dale which looked quite interesting so that's maybe for another day!
I've grabbed a quick google map so that you can see the location, hopefully it will help you gain your bearings around the village. You may find you need to expand the map to see all the details and road names.