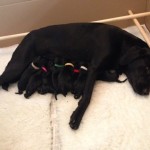 For those of you who are familiar with our site, you will know that our black Labrador Tilly, had a litter of 10 pups a couple of years ago, and we blogged about our experience at the time, and called it the Pitter Patter of Tiny Paws!
We are pleased to announce that Tilly has had her second and final litter last week and is now the proud mum of 9 puppies, whom I can hear squeaking as I write this post!
We have got nine healthy pups, 5 dogs and 4 bitches, so we have really got our hands full for the next 8 weeks!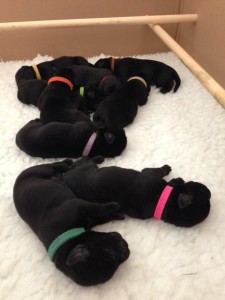 The puppies are being kept in the house with us, so they will experience all the sights and sounds of a busy household, which should make the transition from here to their new homes a lot easier.
Over the next few weeks, we will be blogging at the end of each week to let you know how the puppies are progressing. Sometimes we will include video and also photos to capture the moments as they arise.
So keep reading our posts and find out how Tilly and pups are getting on!