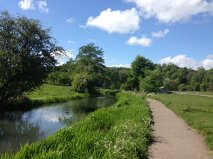 Tilly, Mackie and I decided to do an experimental walk along Cromford Canal this week. The reason I say it's experimental is because dog walks have taken on a whole new meaning now that I have two dogs! Particularly since one is still only a puppy, but at 12 months old, he's a big one!  At the moment we are doing a lot of lead walks, but that's only because I don't have the perfect recall with them together.
Anyhow, the walk that I am about to describe is approximately 2 miles long and took me about one hour. It has a steep uphill section, but is a real mixture of canal paths, woodland and road walking. Hopefully a little bit of everything for everyone.  There are also refreshment stops along the way too.
The Walk
1. Park at Cromford Wharf car park DE4 3RQ.  It is a pay and display (it cost me £1.30 for two hours, which I didn't think was too bad).
2. From the canal, turn left and walk towards the canal. You must turn left and walk down the canal towards High Peak Junction. Many people walk their dogs along here, and many of them will be off lead. There are poop bins to be found at High Peak junction and I'm pretty sure I passed one at the start of the canal walk at Cromford Wharf.  It's approximately 1 mile to the High Peak Junction. There are refreshments served here if you wish.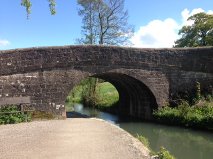 3. Upon arriving at High Peak Junction, you need to cross the bridge and head behind the buildings, following a path which is called the Sheep Pastures incline.  You will walk through a short tunnel onto the trail. This is the long steep part of the walk. Dogs are fine to be off lead once you are on this path.  The footpath that you are on, follows what was the Cromford and High Peak Railway. You will pass a "catch pit" which was designed to capture run away trains of which there were a few!
4. Continue walking up this hill and walk past the small brick building which will be on your right. Shortly afterwards, you will see a footpath sign on your left. This is where the High Peak Trail (which is what you are on) intersects with the Midshires Trail. You will notice that you are on what I can only describe as a bridge section. Once you turn left you will almost double back on yourself and effectively go underneath the High Peak Trail. Follow the signpost to Cromford (turn left). You will walk down a track, again dogs are still OK off lead, but be aware that this track turns into a road very shortly.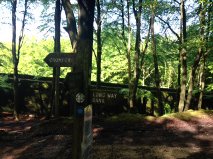 5. The track peters out and becomes Intake Lane. Follow this lane downhill (ignoring all turnings) and eventually you will meet the A6, which is a very busy main road. Turn left along the A6 and walk up to the traffic light junction, be very careful of the traffic and keep your dogs on a short lead.   (Note: To avoid walking along the A6 pavement, apparently there is a gap in the wall opposite Intake Lane, when you meet the A6, I didn't see this path, but apparently this will cut the corner where the road junction is, but I don't know how easy it would be to cross the road at this point).
6. At the junction, turn right into Mill Road and walk back towards the Cromford Wharf car park.
Below I have shown a map, where the blue marker shows where the walk starts. If you move the map across to the right, you can see the footpaths that I have described. I am still working on how to use these maps properly, so you will have to bear with me! The OS map OL24 is the correct Ordnance Survey map to use, if you have one.
For nearby pubs click here
You might also be interested in this post for dog friendly cafes.
Enjoy your dog walk!