This is a lovely area to walk in, even though it is slightly outside of the Peak District proper.
We often call in here if we are visiting Chesterfield for some shopping and don't want to leave the dogs behind for any length of time.
Linacre reservoir is owned by Severn Trent and has several pay and display car parks, which is where this particular walk starts. It costs £1 for two hours, which is not bad value at all. If you are lucky, you might even be able to buy an ice cream, if Frederick's van is parked here.
There are several dog friendly pubs nearby:
The Peacock – at Cutthorpe
The Three Merry Lads – at Cutthorpe (they do a really nice Sunday Carvery and are very dog friendly)!
The Fox and Goose (Pudding Pie Hill S42 7JJ) – we've only just found out about this one! They have a lovely log fire for when it gets a bit colder….
The Walk
1. From the car park, walk through the gap and down the steps. Turn right at the bottom of the steps and walk towards the reservoir.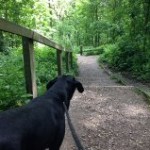 2. Turn left and follow the well marked path alongside the reservoir. If you keep the water to your right and the grassland to your left, continue along the dam to the end of the path. Half way along, you will see spectacular views of the lower reservoir on your left and the middle reservoir on your right.
3. At the end of the path, bear left and walk along the path through the woodland.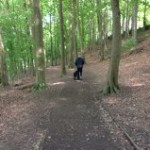 4. At one point the path splits and there is a lower and an upper path. We took the upper path.
5. At the end of the path, turn left and walk along the path at the bottom of the lower reservoir.
6. This will take you to the bottom of some steps, or you can take the path to the right and avoid the steep steps. Assuming you have taken the path, turn left onto the path that you eventually meet and walk back up the hill, past the toilets. You will notice a gate on your left, which you can walk through and meet up with the path where the steps led down to from the car park. Retrace your steps back up to the car park.
|
|
km
|
|
/km
|
+m -m (net: m)
|
download GPX file